Direct download: Windows - macOS - Linux (64 bit)
Screenshot
Click on image for full size.
---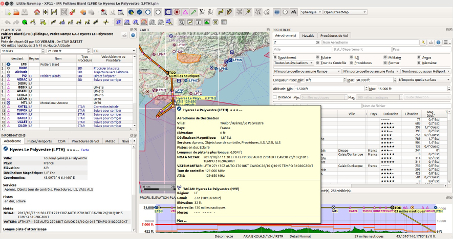 Picture above: French translation.
---
Notes
This small update covers bugfixes, a new export format and a complete French translation of the program.
Changes from Release 1.6.6 to 1.6.7
Little Xpconnect was updated to 1.0.3. Minor changes only.
Little Navconnect was updated to 1.6.3. Minor changes and French translation.
Improvements
French translation by Patrick JUNG alias Patbest.
Added TXT flight plan format usable by JARDesign or Rotate Simulations aircraft.
Added adjustable limitation for maximum points of aircraft track.
Flight plan GPX export saves procedure points and altitude for route points now.
Bug Fixes
Fixed problem where procedures were assigned to the wrong runway in search window.
No runway filter is now back in procedure search.
Fixed errors in ATS route string generation where a DCT was inserted after SID or before STAR statement creating invalid routes.
Fixed problem where X-Plane basepath was not found as Save as or Export default path.
Fixed exception when compiling new TACAN approach in P3D version 4.1.
Fixes for translation support.
Fixed crash after startup when airport procedures changed.
Fixed problem with gap on map display and wrong distance calculation for SIDs starting with an initial fix.
Fixed error where loading FMS flight plans can result in a missing flight plan line in elevation profile.
See the included CHANGELOG.txt or here online for a complete list across all versions.
All files are checked by VirusTotal.