Online Manual (this links directly to the manual of 1.4 while the front page still shows 1.2 until the final release is out)
Screenshots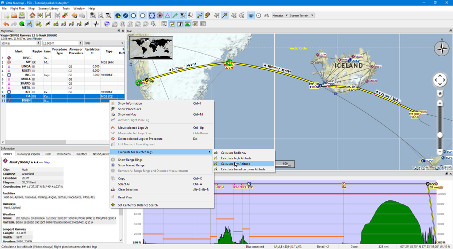 Picture above: Click on image for full size. Flight plan calculation between EKVG and BGGH. The space between Iceland and Greenland has no low altitude airways. Therefore the first segment EKVG to KEF and the last segment DA to BGGH can be calculated automatially while KEF to DA is a direct connection. See here for more information.
Notes
See 1.4.0.beta announcement for changes since version 1.2.4
Changelog
Fixed errors with radionavaid flight plan calculation. DME and TACAN are now excluded. Reload the database to activate this fix.
Added option to calculate flight plan segment between selected waypoints.
Fixed errors with airway display and airway tooltips appearing in the wrong position.
Fixed map object overflow logic for airspaces and navaids. Indication Too many objects is now more reliable.
Added separate layer for airspaces without waypoints to get a better overview.
Added north/south and south/north altitude rules.
Corrected odd/even altitude rule to use magnetic course.
Autoconnect is now switched on per default (on new installations only, otherwise the old state is kept).
Now using straight line if recommended fix is missing for arc segments to avoid crashes for invalid procedure legs.
Procedure legs are now only red if unusable. More tolerance for missing recommended fix now.
Fixed color customization for profile widget. All colors now have a dark/normal variant. More colors and styles are cutomizable now.
Added option to overload vehicle icons (see here in the online manual for instructions.
Aircraft track is now kept when connecting to simulator. Track is only deleted when aircraft position jumps too far.
The long detailed changelog is here: Changelog 1.2.4 to 1.4.1